At Plants Creative Landscapes, our approach to landscaping and landscape design has always been a little different… It's a human-centered approach based on biophilic design concepts. We believe thoughtfully designed outdoor spaces have the ability to enrich people's lives by creating a deeper relationship with nature, and with each other.
Now, this isn't a new philosophy, but it is one that is often overlooked by designers, builders and landscapers in an effort to create stunningly beautiful properties before really knowing how it will affect their client.
Will the design help connect them with the outdoors? Will it bring them joy and fulfillment? These are the questions we keep top of mind when designing new outdoor spaces.
What exactly is biophilic design?
Biophilia is the love of nature.
Most people feel more alive when they're outside — that's why we spend time and money to travel to parks, engage in outdoor activities and pay more for that house on the lake or great view of the mountains.
Biophilic design takes our desire to connect with the natural world and incorporates it into our environment in a number of ways:
Making use of a variety of natural materials in the landscape design, like stone and wood.
Using a natural color palette that is soothing to the soul, with plenty of earth tones.
Favoring garden designs that work in harmony with nature and support the local wildlife — like using native plants that attract pollinators.
The best landscapes are extensions of our indoor living spaces — extensions so natural that the transition is seamless. The ultimate goal being harmony between home, human and nature.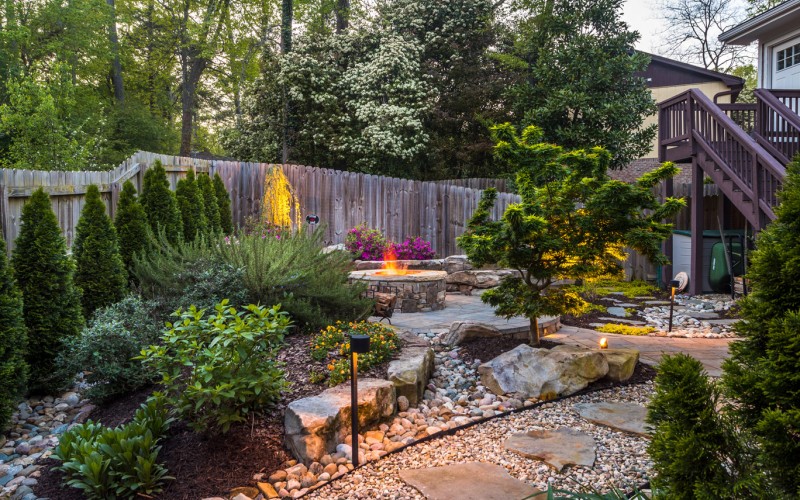 What is "human-centric" design?
A designer who is "human-centric" puts people at the heart of the design, using empathy and good listening skills (see our post on how to choose your landscape designer) to understand what they're looking for — and why. At Plants Creative Landscapes, our goal is to learn as much as we can about the needs and desires of our clients so we can come up with inspired, creative solutions — together — that solve the issues they're facing and make their lives richer.
Being human-centric is knowing and understanding that everyone is different, with different hopes and dreams for their property. Features you wouldn't want to live without (like an outdoor kitchen, for example), might be of no interest to your neighbor.
It's also knowing that good landscape design isn't about the features. For example, when people ask for a fire pit to be included in their design, it's not about the fire pit… it's about the experiences associated with fire pits. The warmth of the fire… the ooey,gooey goodness of melted marshmallows… swapping stories and singing songs… the joy from spending time with family and friends.
Being human-centric has given us the insight to innovate and improve our services while responding to the needs of our clients: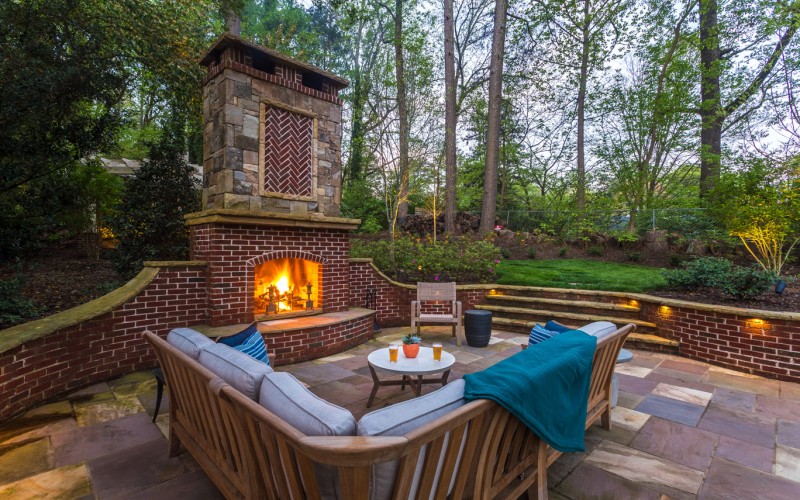 The joy of outdoor living…
At Plants Creative Landscapes, we build and maintain landscapes — but we're passionate about connecting people to nature, strengthening their relationships and giving them beautiful spaces where they can relax and build lasting memories.
Your outdoors should be a reflection of your lifestyle… but sometimes it's not easy to identify the features that will bring you joy.
This is where we can help.
If you're looking for inspiration, you're invited to download our free guide,The Joy of Outdoor Living. In it you'll find ideas for features and designs that'll celebrate you and your lifestyle. Then, when you're ready to get started, we're here for you.
We'll help you create a landscape that's an extension of your indoor living spaces — an extension so natural that the transition is seamless, with the ultimate goal being harmony between home, human and nature.