So you've decided to invest in a new landscape for your home. We couldn't be more excited for you!
First, we want to applaud you for taking this big first step. Second, we know and understand that you might be a bit intimidated by the size and scope of your dream landscape. That's not to mention you're going to be entrusting your hopes and dreams to a designer who you've just met.
We get it. To help you make your choice, we asked our design team what they think makes a good landscape designer. Their answers are below.
Four things to look for in your landscape designer
Empathy and good listening skills. — Listening skills are the most crucial trait you should look for in your designer. And not just whether they can repeat everything you say to them — they should be actively listening and prodding you along with helpful questions. Asking these questions should also come from a place of empathy, where your designer truly puts themselves in your shoes and understands what you're looking for. When this is done well, the questions can expand your vision and give you new ideas that you might not have thought of. This way, it's far more likely that they'll get the design right when all is said and done.
A beautiful portfolio. — We all know that education is important, but real-world experience is even more important. Look at examples of your designer's past work and make sure they have a wide range of experience. If you're in the Intown Atlanta area and are considering us, we've tried to make it as easy as possible to see some of our past projects. We also encourage you to get an even better look by watching the videos too.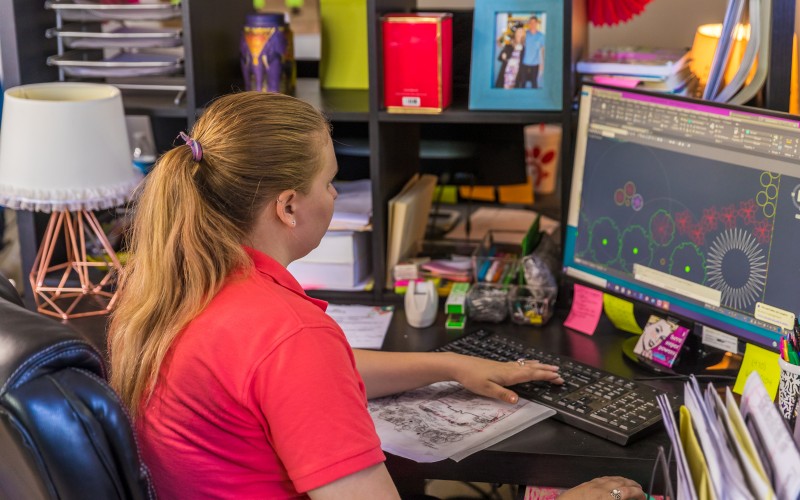 Positive testimonials. — Take some time to research multiple landscape companies online. And while you're doing so, look for reviews and testimonials from previous clients. These can be very telling! Whoever you hire will have their employees working in and around your home, so it's important to get to know them, form a positive relationship with them, and most importantly — trust them. Reading testimonials will give you many clues in these areas. You can see some of ours on Facebook, Houzz, and Google.
Clear communication. — It should be obvious what's happening and when. Potential red flags to look for include unreturned phone calls, missed deadlines or meetings, unclear processes, or not having a point person to contact at the company. To combat and prevent any of these red flags, at Plants Creative we have a "People Experience Manager," a job position dedicated entirely to your experience as a customer.
What about the design process?
So you've settled on a landscape designer. What's next?
If you're curious about what's all involved in the Plants Creative design process, this video gives a great outline of the initial steps. Check it out!
We want to make sure you have the tools to choose the right landscape designer for you — and part of that is knowing what to expect. If you have any questions at all about how design works at Plants Creative, get in touch and we'll be happy to help!