We all dream about having a perfect backyard — a place to escape, unwind and make memories with family and friends.
However, a large project that includes a lengthy design process isn't for everyone. Fortunately, there are ways to enhance your backyard in smaller ways.
Here are our team's top five affordable, budget-friendly enhancements with the biggest impact on backyards.
1. Get cozy with a firepit
Firepits are some of our most requested landscape enhancements — and it's no wonder why!
Gathering around a warm fire is something ingrained in our culture. There are few things better than cozying up by the flames on a cold night and enjoying drinks and good conversation.
Firepits are compact and often circular in shape, so they can be comfortably enjoyed by everyone — from your significant other to your entire family and friends. They tend to be less expensive than fireplaces, making them an affordable option.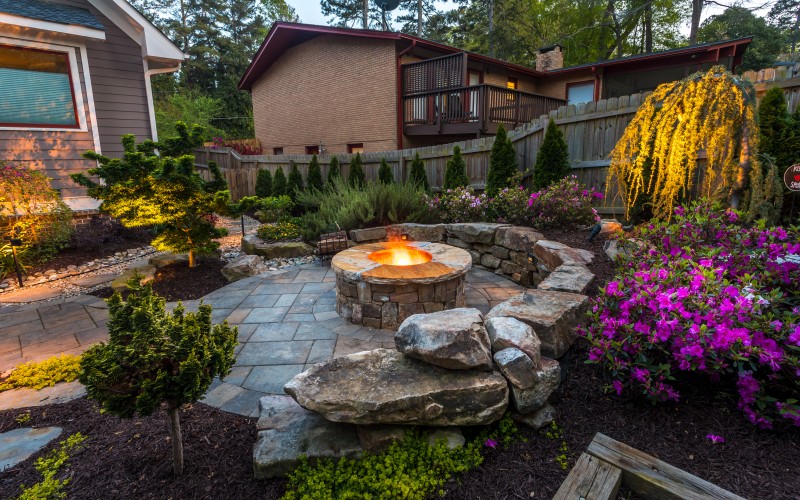 Another thing to keep in mind is choosing between wood-burning or propane-burning firepits. Both have their pros and cons.
Wood-burning firepits feel more authentic and the smoke will have that delightful "campfire" scent to it. However, the fire is more difficult to start and the smoke can bother some people's eyes. Gas-powered firepits, on the other hand, burn easily and cleanly, with little smoke. They can be fueled either by propane tanks or your home's natural gas, but the heat is less intense and they can cost more to run.
2. Create the perfect ambiance with an outdoor fireplace
Now, wait a second, you might be thinking. Aren't firepits technically a fireplace?
Technically, yes. But in the landscape world, we're referring to something more than a "pit." Fireplaces tend to be "hearths" complete with chimneys. In most cases, this means they can only be faced from one side. This can make them cozier and more intimate, and also an excellent focal point for outdoor rooms, but they're also more expensive than firepits.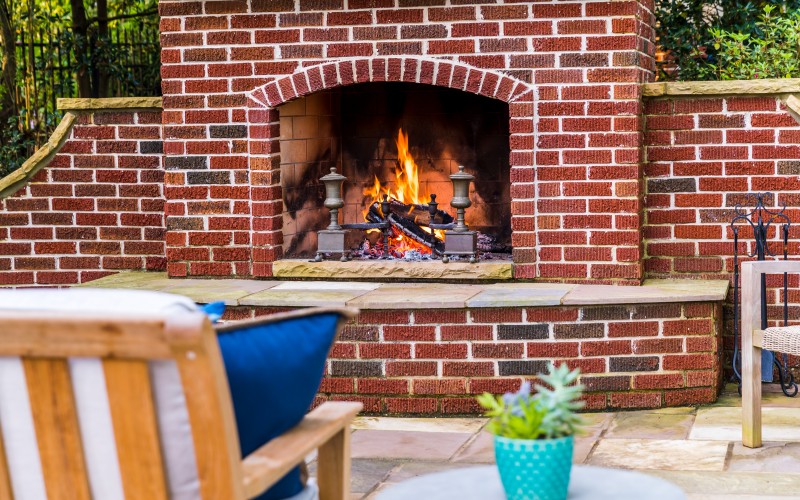 The pros of a fireplace include the ability to enjoy an open fire nearly year-round instead of just on summer nights — rainy or windy weather won't affect it!
See the major differences between firepits and fireplaces here and find some inspiration with examples while you're at it!
3. Cook the night away with an outdoor kitchen
Everyone knows that the kitchen is the most popular room in the house. It can be hard to keep guests out of the place where all the food and drinks are kept — so why not bring that experience outside?
Today's outdoor kitchens can offer you everything you'd use to cook inside… outside! From grills to kegerators, pizza ovens and smokers, the options can be overwhelming. Check out our guide on designing your dream outdoor kitchen for help navigating them all. We also offer some pre-fabricated kitchen options for those on more of a budget.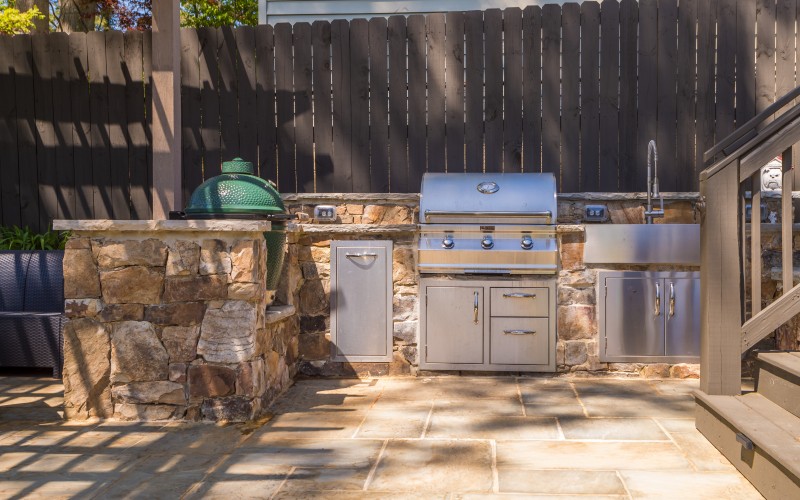 With an outdoor kitchen at your disposal, you can prep, cook, and serve food all in one place, while being steps away from your dining room. Dining al fresco makes those expertly prepared meals taste all the better!
4. Get growing with raised garden and planter beds
Raised garden and planter beds are growing in popularity these days. Now more than ever, our clients have more time at home to dedicate to growing a vegetable garden or planting some annuals.
A raised bed is simply mounded soil or a container of soil that sits above the ground. By raising the plants, they have a wide growing area that encourages them to stretch their roots down and outward. At Plants Creative, we install raised planter beds made of cedar.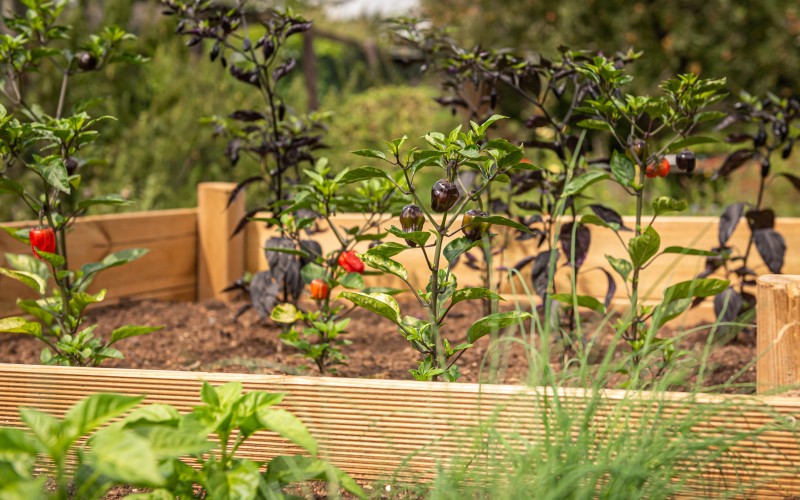 There are a ton of benefits to raised beds. They organize your garden space, especially when you have limited space for planting a garden. If your soil isn't ideal for growing or you're surrounded by concrete, installing raised beds means you can grow a garden anyways! They also offer easy drainage and help keep pests out. And let's not forget that they also mean less bending over to care for them!
Raised beds are particularly useful for edible gardens, where you'll be out caring for and harvesting plants almost daily in the summertime.
5. Lounge all day and entertain all evening on a patio
Patios serve so many uses in a landscape, whether it's an outdoor dining room, a more relaxed hangout space, or even a poolside sunbathing area.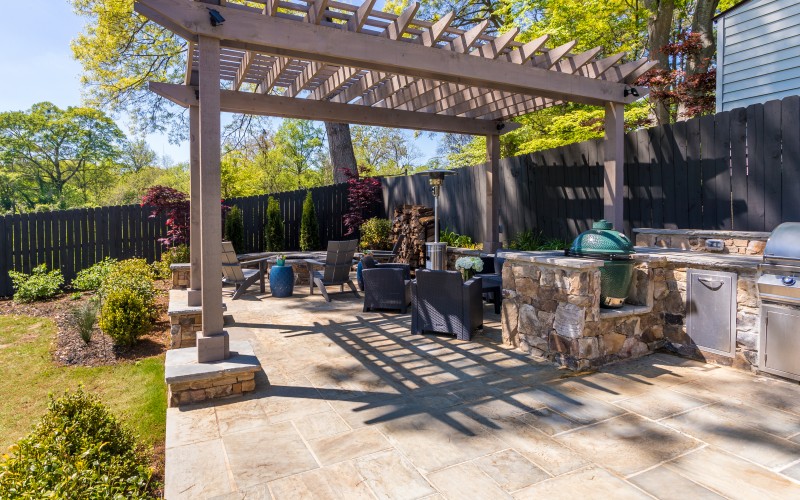 Patios can be simple or complex, but there's no denying that they're one of the best ways to enhance your backyard. Dress it up with furniture and the right decor and you'll be dining and entertaining to your heart's content.
Get started on an enhancement project today!
No matter what you choose, an enhancement can really have an impact on your backyard, making it into an amazing spot to enjoy time with family and friends.
Interested in pursuing a smaller project? Give us a shout!