Inside the house, guests somehow always end up in the kitchen. That same experience can easily be recreated outside in your backyard. A well-designed outdoor kitchen can give you a space to prepare food and serve drinks while mingling with your guests. All of this without making a mess inside the house!
Designing an outdoor kitchen is extremely exciting, but sometimes it may be hard to know where to start. There are so many options out there! That's ok. My job is to make sure the entire process stays fun. And to help you design a kitchen that looks and works great!
As you dream about prepping and cooking outside, keep in mind some of these tips. They'll give you a clearer picture of what to look for and what to ask me.
What to Think About Before Designing
What do you plan to use your kitchen for? Make sure it's task-oriented. Are you planning on cooking full-scale meals completely outdoors? Or will some of the work still be done indoors? Depending on how large your kitchen is, you may be able to put a roof or structure overtop. A customer of ours in Glenwood Park had a pergola build overtop of a small kitchen area.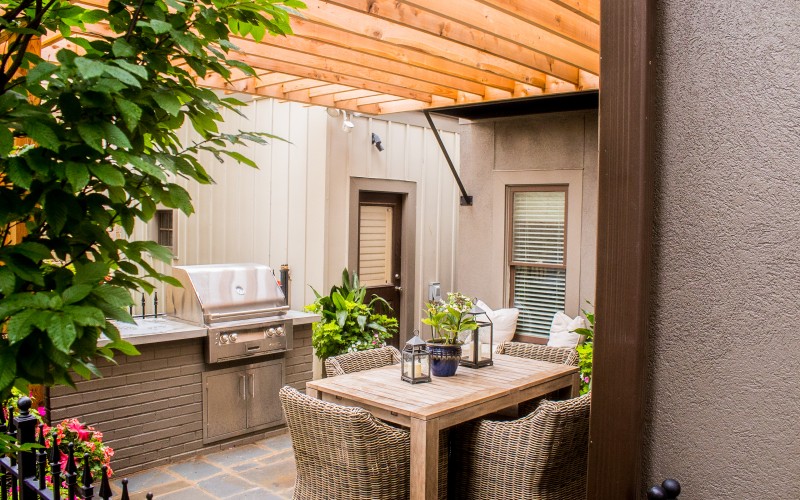 What appliances are a must-have? Built-in appliances are the best part of an outdoor kitchen. Some of our favorites include:
Grills — A standard for outdoor kitchens. If you're planning on doing any cooking outside, grilling is one of the best ways to do it.
Pizza Ovens — Making and cooking homemade pizza in a wood-fired oven will make it hard to ever go back to frozen, delivery or regularly-cooked pizza. Extremely hot temperatures cook the pizza quickly and efficiently, giving the crust just the right amount of crunch. There's nothing quite like it!
Kamado grills and cookers — Combining a grill, an oven and a smoker all-in-one, the Kamado grill is a great option for the more adventurous cook. Two of our favorite brands are Big Green Egg and Kamado Joe.
Kegerators — Fancy pulling your next pint from a tap installed directly into your stone counter? Kegerators are basically bar fridges that are specially designed to hold anywhere from one to three small kegs inside. Hook up a fresh keg and get pouring!
Icemakers — If you're into cocktails, having ice on hand is a must. Stainless steel ice makers are very popular in the kitchens we design.
Warming stations — Cooking a lot of food? Warming stations allow you to keep food warm — and keep cooking! Most come in drawers and buffet-style drop-in containers.
Don't overlook the details
Some other tips to keep in mind…
Think about whether you want hot water, gas & sewer lines — These are almost always necessary for outdoor kitchens, and depending on where the kitchen is, can be expensive to install. Consider whether an outdoor sink is necessary. As for gas — if you're grilling or smoking, you'll definitely want this installed. When you work with us, we'll make sure you know about these costs ahead of time.
Plan for storage & functionality — Some aspects of an outdoor kitchen can get overlooked. These small details are often helpful to have for functionality. These include…

Additional electrical outlets for lighting or small appliances like blenders.
Storage drawers or cupboards for trash bins.
Overhead lighting for if you ever want to cook or prepare drinks late into the evening.

Consider your materials — Some of the most popular materials for kitchens are bricks, concrete and stone — mainly for their durability — but wood is also an option. Poured concrete countertops might cost less, but some prefer the aesthetic of stone. We're happy to walk you through all of the options before building anything.
So there you have it: a quick rundown of tips for designing your outdoor kitchen. If you feel ready to start designing your outdoor space and want to include a kitchen, check out our design packages and get in touch. We are looking forward to helping you craft a space that is unique to you!
Install An Outdoor Kitchen In Time For Your Next Gathering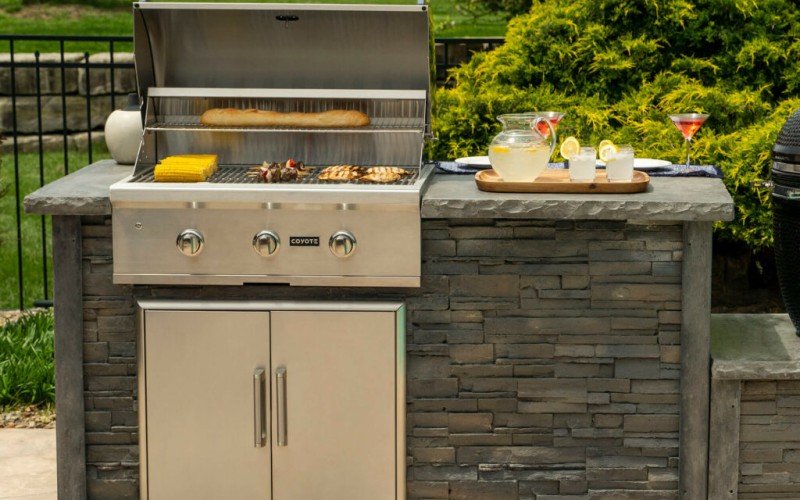 People come for the food and good conversations! If you're looking to complete your landscape with an outdoor kitchen space, we've got you covered. Our new outdoor kitchen packages include a ready-to-assemble Coyote or Artisan grill, 6 ft of counter space for easy meal-prep, a hidden storage for your propane gas tank, and a customizable finishing.
Interested in learning more about our ready-to-assemble outdoor kitchen packages and their price points? Complete the form below to get started.