Have you heard the news? As a company, we're investing in new "smart" technology and making a shift towards electric equipment.
Our goal is to be totally electric by 2024, with a few caveats. (We're looking at you, leaf blowers! More on that below.)
What tech are we investing in, how are we doing it, and most importantly… why? Keep reading!
Starting with why: A culture that values innovation.
Innovation is a large part of our culture at Plants Creative — it's ingrained in our core values.
One of our core values is "Grow better." By that, we mean that working at Plants Creative is more than a "day-in and day-out" job. Working here means we all rally around a shared purpose — to improve our customers' experience with the outdoors.
Part of that purpose is developing new skills and growing as both people and professionals.
Along with each of our values, we include "I will" statements that back up the value and illustrate how it can be used "on the ground" in a practical way.
For the "grow better" value, that means…
I will challenge the status quo
I will innovate and problem-solve
I will collaborate and learn from others
I will ensure our customers feel heard, understood and cared for
All of these are key drivers for why we chose to invest in smart landscape technology and electric equipment!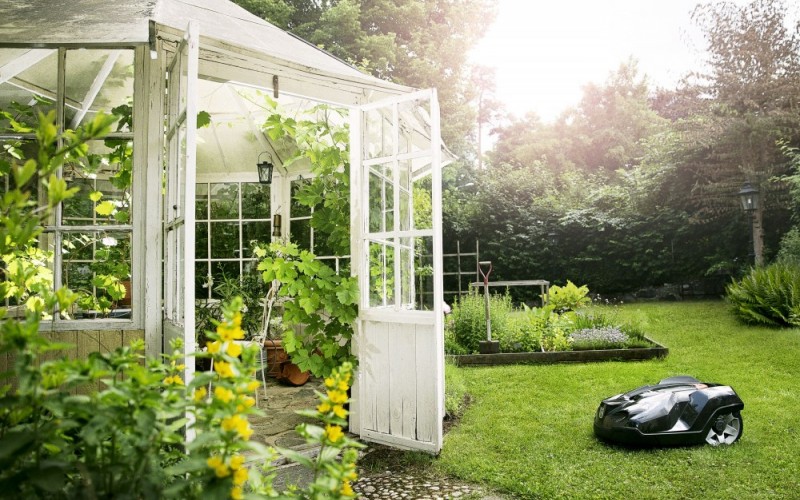 What are you specifically investing in?
You may have heard about our Husqvarna Automowers, which are part of our recently launched "smart landscapes" services. These include:
Billy, the aforementioned Husqvarna Automower
Hydrate, our smart irrigation system service
Smart lighting & audio systems from Coastal Source
As for electric equipment, we use and rely on Husqvarna with confidence! All the tools are interchangeable, so our team members can just grab a tool and a charged battery, and they're ready to go!
We've also outfitted some of our truck fleet with solar panels to charge the batteries when they aren't in use.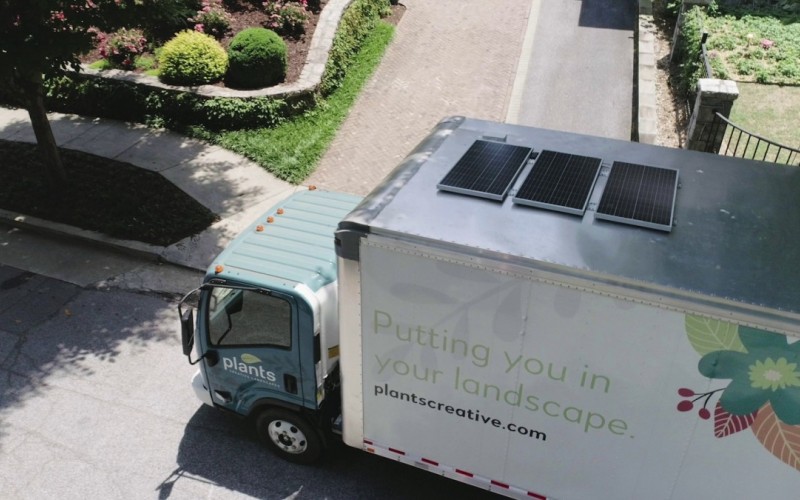 There's more to the "Why"! Five other key reasons we're making the switch.
We're guided by our core values of course, but there are some other, very practical reasons we're investing in this new technology.
You asked for it! And we keep getting positive feedback on the new equipment. — Back in 2019, we surveyed our customers to see what the interest in electric equipment was. And the response was unanimous. Every single person who responded wanted to see electric equipment on their property. Since then, the excitement among our customers keeps growing as we add new equipment and solar-panel-topped trucks with battery-charging capabilities.
Fewer emissions and a lower-impact environmental footprint. — Since the equipment emits zero carbon, it's drastically reducing our environmental footprint.
Reduced noise pollution. — Gas lawn mowers tend to run at 90+ decibels, with electric mowers operating in between the 65- to 85-decibel range. Normal conversation rates at about 75 decibels on the scale. Other equipment we use have similar stats. And if you have an Automower installed on your property, it's even lower at around 60 decibels!
Giving our crews time and space to do what they do best. — Investing in new technology, especially Automowers, allows our crews to spend more time pruning and caring for garden beds, which is generally work they prefer to do! This means they also have to spend less time on your property.
We want to lead the industry. — As early adopters of this technology, we're paving the way for other landscaping companies to use more of it in their operations — which benefits their teams and customers the same way it benefits you
I heard that electric leaf blowers aren't good enough…
There has been some press about the noise and emissions of gas-powered leaf blowers. In fact, I was happy to be interviewed by our local TV station about this issue in 2021.
You can probably tell by the attention-grabbing title of the story that there are a lot of strong opinions on the issue!
I believe electric equipment is our future. And while we have set 2024 as the timeframe for when we go "fully electric," I'm still not sure if the technology for electric leaf blowers will catch up in time. Major brands are investing heavily into developing the technology and we're seeing some rapid improvements, but at the moment, electric blowers just aren't powerful enough to keep up with the amount of work we need them for. Most of them only run for a few hours at a time (when we need them for entire days!) and don't blow strong enough for us to use them well.
While this is still a challenge to overcome, I know we'll get there eventually. We either put our energy into fighting against change or we embrace the opportunity to lead it!
On a personal level, I'm so proud that our team can offer electric maintenance services to our residential customers! We're 50% electric in 2022 and we're still pushing towards our 2024 goal!
If you like what you're reading, you can find out more about smart landscapes here, and about our electric equipment initiative here. And if you just want to talk to us about it, get in touch here!