"How do I maintain my landscape in the fall and winter?" Or, "What do landscapers do when it gets cold?"
Our maintenance customers love to ask these questions. So, here are the answers!
Below is a high-level breakdown of exactly which maintenance tasks we typically take on in the fall and winter months. (The spring and summer list is here!)
You can get these quarterly updates on our newsletter!
Each quarter, we break down what we're going to be doing on our customers' properties in our email newsletters (you can sign up here!).
Even if you aren't a customer, you can still use these lists as a guideline for your own DIY maintenance.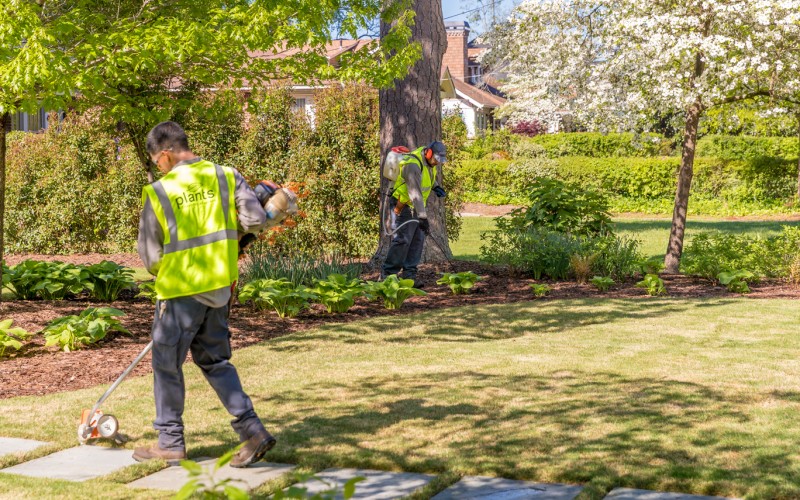 The fall and winter property care list:

Every property is a little different, but the following items apply to most. This list serves as a guide for our property care teams to determine what should be done during each visit. Our services for property care customers are broken down into two categories:
"Maintenance" describes any items that we complete for the majority of our customers.
"Additional services" indicate anything over and above "standard" maintenance. Many of our customers add these upgrades to their packages for ease and convenience. If you'd like to add them, just get in touch.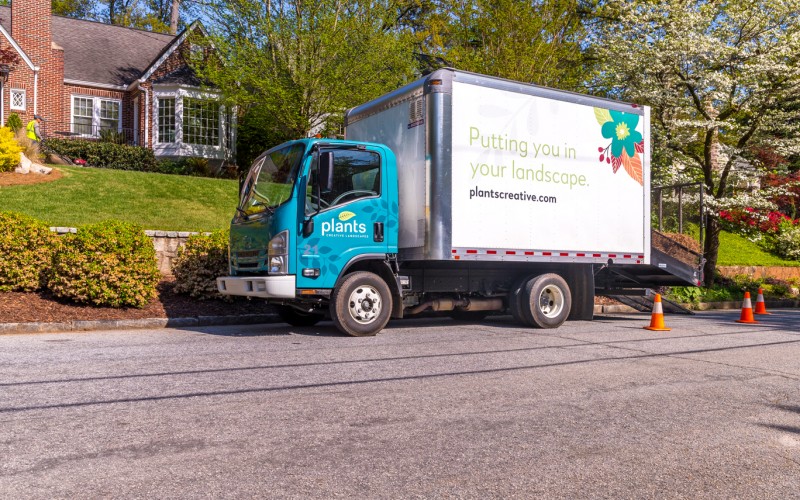 Late September, October & November
Maintenance:
Lawn care — keep mowing and edging your lawns to keep them looking sharp. Automowers are usually picked up and tucked away for the winter in late November.
Pruning and tree & shrub care — most shrubs should still be pruned to maintain their health and shape. Some exceptions are camellias, azaleas, and —towards the end of November — boxwoods.
Garden bed care — spent flowers from summer-blooming perennials should be cut back and general weeding continued. If you see a weed, pull it out!
Fall cleanup — leaves should be blown and removed from your property. If your property has natural or wooded areas that aren't normally mulched, mulch down your leaves and blow them into these areas.
Additional Services:
Fertilization: ornamental plants, trees, and shrubs benefit from a nutritional boost to help them survive the cold months ahead.
Aeration & Overseeding: fescue lawns are aerated to loosen up the soil, and new seed is spread to ensure a thick, beautiful lawn.
Seasonal color: cool-season flowers and plants (pansies, violas, snapdragons, ornamental cabbages/kale, etc.) are installed in beds, pots, and planters.
Irrigation: systems will be winterized in late November.
Planting: many trees and shrubs benefit from being planted during the cooler months.
December
Maintenance:
Lawn care: general mowing and edging continues for fescue lawns. Warm-season lawns such as zoysia and bermuda will often go dormant but will still be mowed and edged if active.
Pruning: select pruning of many trees and shrubs will continue, ornamental grasses will be trimmed, soft perennials that have gone dormant will be cut back.
Fall cleanup: Leaf cleanup continues, especially for oaks.Once all the leaves have fallen, go ahead and add pine straw and mulch to your garden beds!
Additional Services:
December is when we get to work on fall clean-ups, which involves removing leaves and other debris.
Tulips are spring bulbs that are best planted in December so the soil has ample time to cool off from the summer heat. If you have requested tulips, we plant them now.
If all of the leaves have fallen, go ahead and add pine straw and mulch to your garden beds!
January & February
Maintenance:

Lawn care — You're off for the month! Generally, no mowing is required in January. In February, we apply a pre-emergent herbicide to prevent new weeds from taking root. (If included in your maintenance package.)
Pruning and tree & shrub care — It's shrub and tree pruning season! Liriope, hardwoods, ornamental grasses, roses, and crepe myrtles all can use a good pruning around this time. If you have larger-scale structural pruning that needs to be done, do it now. Plants are dormant at this stage so they sustain the least damage when you prune now.
Garden bed care — Just like your lawn, we apply a pre-emergent herbicide to your gardens in February.
Additional Services:
Weed control: with our optional lawn and landscape treatment programs, pre-emergent herbicides are applied to lawn areas and garden beds to get ahead of early-spring weeds.
Rejuvenation pruning: many overgrown trees and shrubs can be significantly reduced and re-shaped this time of year while dormant. Plants that require rejuvenation can be hard pruned or pruned gradually — it depends on what you're pruning, so be sure to do a quick online search into the needs of your specific plant.
Mulch and pine straw: Once the fall leaves are gone, an application of mulch and/or pine straw will protect your landscape from not only freezing temperatures, but also from water loss due to winter's unforgiving winds.
Many trees and shrubs are best planted in the winter. Be sure to read the plant tags on when and how to plant. Now is also the best time to fertilize all trees and shrubs.