For decades, most outdoor speakers didn't look or sound all that great.
Not anymore!
Audiophiles and casual listeners can finally share lifelike audio with friends and family outside with today's smart audio technology.
But how, you ask? Answers below!

What do you mean when you say "smart audio"?
Smart audio is one aspect of a "smart landscape," which we've already talked about at length!
Plants Creative Landscapes has partnered with Coastal Source, an industry leader for outdoor lighting and audio systems based in New Jersey.

Everything installed sounds as good as it looks!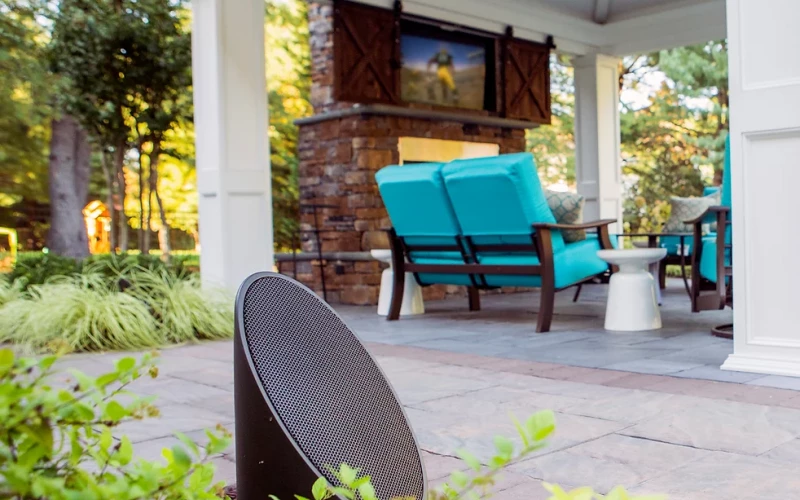 What makes the Coastal Source system look and sound so good?
We could sing the praises of these systems for a long time, but to summarize, there are three main reasons.
1. The speakers blend right in.
All of the speakers available have a simple, clean and contemporary look that makes them blend into your landscape. You won't even notice they're there… with your eyes, at least. Your ears? Well, that's a different story!
When we design your system, we start by listening to you, but also to your garden. Our goal is to find where sounds are coming from, both nearby and far away. We also look for surfaces that might absorb or reflect sound — in other words, we look at the overall ambiance of your space. From there, your audio system is "tuned" to your existing space, with designated listening areas that correspond with where you already gather.

In short, everything blends together visually and aurally (yes, we just used that word!)

2. The system is easy to use.
Like all the smart technology in our smart landscapes lineup, your outdoor audio system is super-easy to use.
You can control everything directly from your smartphone or device and connect through Bluetooth, Airplay, Sonos and more.

If you have an indoor system already in place, we can connect most indoor systems directly to your new outdoor one. If you want a separate, completely outdoor system, all you need is a few 120-volt outlets outside!

3. The sound quality is top of the line.
No matter what speakers you end up choosing, your system will cover a large listening area with high-fidelity sound.
This is where the audiophiles can truly geek out. You won't find the technical features and range of speakers available to you through Coastal Source anywhere else.

If you're one of those audiophiles, some of the key tech specs include line array performance, full frequency ranges and a large driver area compared to conventional outdoor speakers for high performance.

Coastal Source also has a patented "Coastal Connector" plug-and-play cabling system that offers a completely weatherproof way to connect wires. Poor quality connections, out-of-phase polarities and shorted connections will be a thing of the past.

Instead, enjoy clean, clear and crisp audio. A perfect match for whatever cold beverage you have out on the patio with your new speakers!

What about exposure to the elements?
Coastal Source's tagline is "defy the elements" and it's no wonder why!
They have rigorous testing standards for their audio systems, going so far as to expose their speaker units to saltwater to accelerate corrosion when testing, and even submerging them in water to make sure they can withstand torrential rain and flooding!

It's also why they come with a lifetime warranty for all residential applications.

Bring home the band without buying the tickets.
Adding a smart audio system to your backyard will take it to the next level. Imagine having that amazing indoor sound, but outside in the garden — where we already know it's good for us to spend our time.
Your next party is sure to be a smash hit!

To find out more, just reach out here.