There's something about the majesty of the Blue Ridge Mountains that speaks to your soul. Ever since opening our new location in North Georgia, my love affair with the region has continued to grow!
For many, having a home in the Blue Ridge Mountains provides a respite from the hustle and bustle of life in the city — a place to relax and refresh while reconnecting with nature.
After living part-time in the region for a number of years, I came to realize that the vast majority of my neighbors there had no one to help with their landscapes — leaving them with beautiful views that they couldn't take full advantage of.
That's one of the reasons for opening a location here — that and the challenge of creating landscapes that strengthen the symbiotic connection that exists between people and the natural world around them.
Here are my thoughts on the top three features you can add to your landscape to make the most of your beautiful mountain retreat.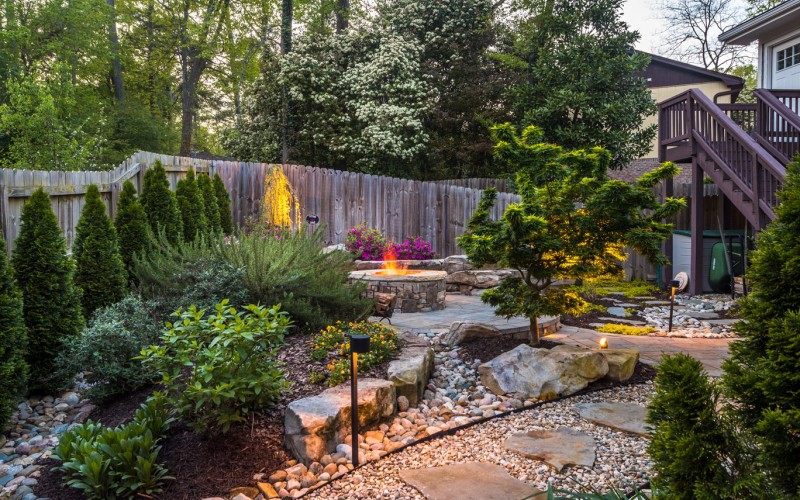 Light up the night skies with landscape lighting
Landscape lighting is a feature that's often overlooked, but if you ask me it's the best way to squeeze in a few extra hours outside. Because without the benefit of streetlights… it can get pretty dark out here in the mountains!
Adding lighting to your landscape complements your outdoor space's aesthetic and is purposeful at the same time. Your landscape is enveloped in a beautiful warm glow that allows you to linger outdoors long after the sun goes down.
It also gives you a level of safety and security. I don't need to tell you how unnerving it can be to peer out into the darkness trying to figure out what (or who) is making those strange noises in your yard! (If we're being honest, it's probably just wildlife!)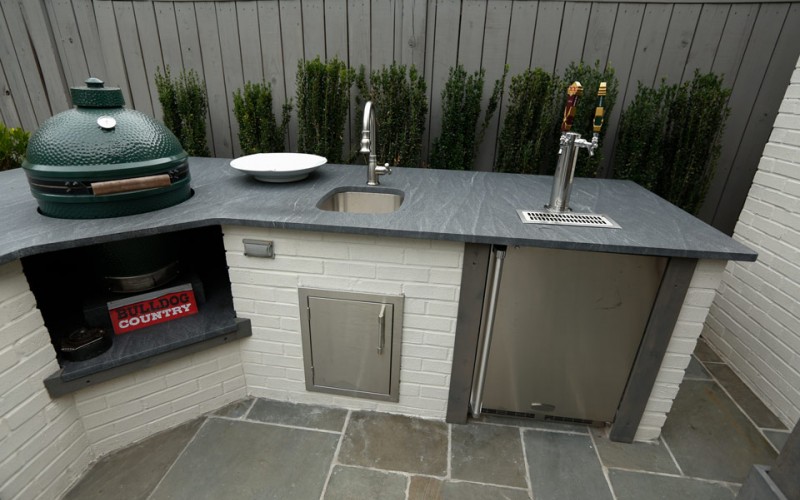 Cook and dine alfresco with an outdoor kitchen and dining room
If you're anything like me (and I suspect you are) you really value the time you spend outdoors, relaxing and entertaining friends and family.
By including an outdoor kitchen in your Blue Ridge landscape design, your outdoor entertaining will go to a whole new level.
You'll have the freedom to spend even more time outside with your guests, and nothing makes cooking more of a joy than grilling burgers in the fresh mountain air… surrounded by nature and the ones you love!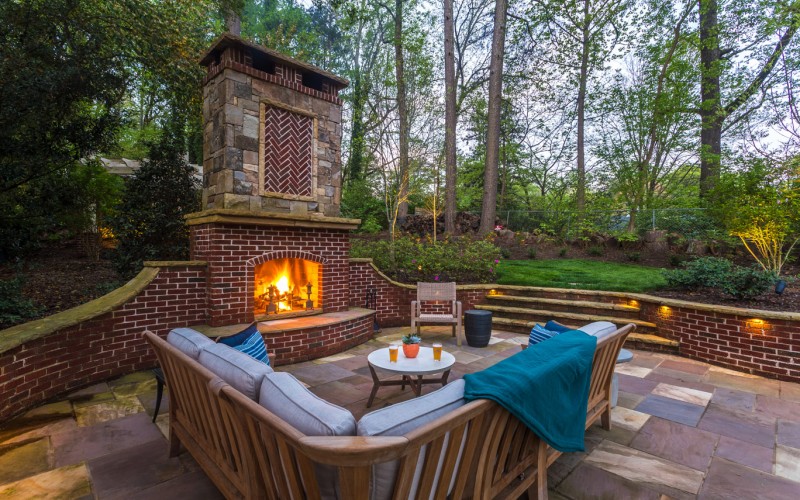 Gather around the warmth of a fireplace or firepit
It's not just moths who are drawn to a flame — people are too!
Fireplaces and firepits both bring people together. There's something about the dancing flames that invites good conversation and a community vibe.

Whether brick, steel, stone or concrete, there's a range of fire features that blend perfectly into our rugged mountain setting and further connect us to nature.

Blue Ridge really is Georgia's best-kept secret...and Plants Creative Landscapes is here and ready to do business!

Our new location should be complete by the end of 2021 (they're actually pouring the concrete as I write this). We'd be happy to sit down with you to help you start enjoying more of those gorgeous mountain views. Get started here!