Gas-powered push mowers are quickly becoming a thing of the past.
There are some amazing new options out there, like battery-powered electric equipment and robotic lawnmowers!
Billy, the name we've given our Husqvarna Automowers, is a cutting-edge (pun intended) robotic lawnmower that gives you a perfect lawn without you having to do any of the mowing. We love Billy because he allows our property care crews to do what they do best — caring for and cultivating your gardens.
Many of our customers have questions about how these Automowers are installed. So here's a quick rundown that will answer all your questions… and leave you wanting your own Billy!
How is Billy installed and what can I expect from the installation process?
In simple terms, Billy is a hands-free robotic lawn mower that can safely cut your lawn all on its own, within defined parameters. By clipping only a quarter of an inch at a time, the small clippings naturally fertilize your lawn and keep it looking fresh every day.
He's a bit like a Roomba for your lawn. We've already talked a bit about Billy and how he works in a previous post if you want to refresh your memory!
Choosing Billy to mow your lawn is exciting — but everyone wants to know more about how exactly he's installed before they fully commit. Here's what happens: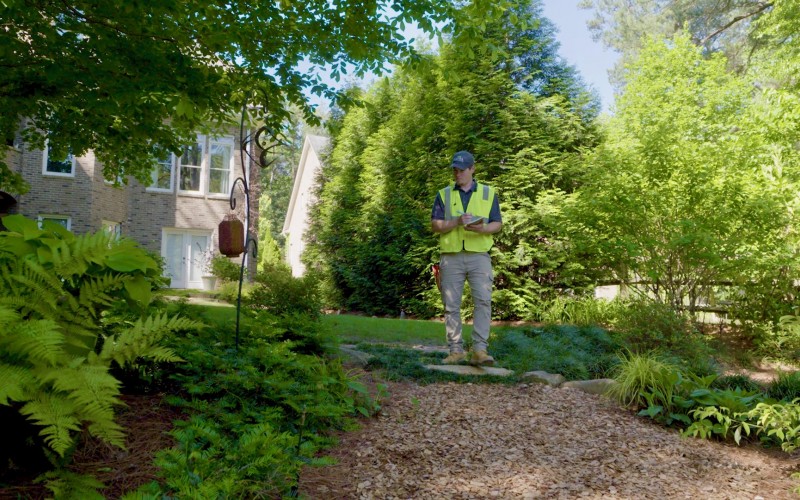 1. Cleaning up and getting your yard ready!
The first step is pretty basic. Our team makes sure your yard is clean and clear of any obstacles, from toys to tools to rocks or anything else. Then they give it one last manual mow.
2. Setting up the charging station.
It wouldn't be a robot if it had a cord, right? To run on its own, Billy has to charge his battery in his charging station.
It's best to keep the station close to a power outlet, out of the sun and away from sprinklers, with open space around it. There should also be about 10 feet of free space in front of it. Once we've set up the station, we dock the Automower into the charger. Then he starts charging — if his battery is empty, this can take anywhere from 80–100 minutes.
3. Creating boundaries at the edges of your yard.
This is how we tell Billy where to go — and more accurately, where not to go. While Billy moves randomly and covers your entire lawn, he needs to know not to run into your garden or fence or off your property.
To keep Billy around, we use a special boundary wire along the edges of your lawn. We install this wire by burying it underground unless we're going over another cord — you won't trip over the wire or even see it unless you're really looking for it. If you have flowerbeds or bushes in the middle of your lawn, we place wire around those too.
We always leave some space between the boundary wire and fences, gardens, or anything else you don't want Billy to run into, because he'll travel slightly beyond the barrier before he knows to turn away from it.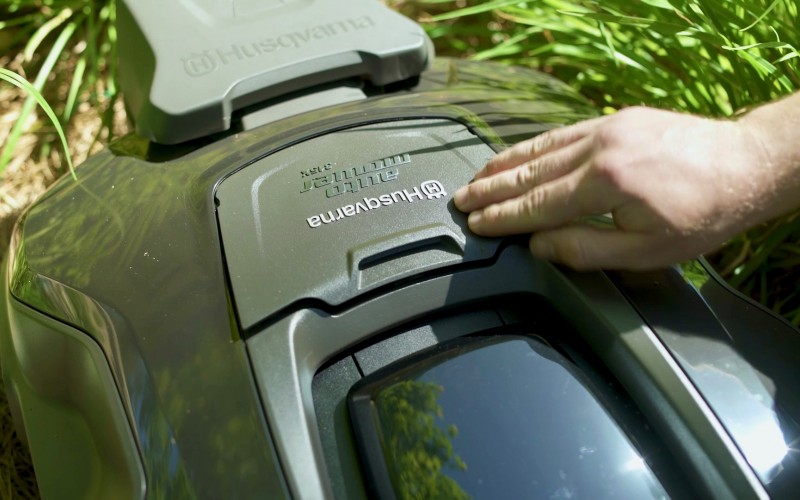 4. Laying the main "guide" wire.
While the boundary wire tells Billy where the edges of your yard are, the guide wire tells him how to get back to his charging station when he's done for the day.
First, we connect one end of the guide wire to the charging station. Then we lay the wire, starting under the center of the station, all the way to a planned point on the boundary wire. If your yard is generally straight, it can be a straight line from one end to the other.
Then we connect the guide wire to the boundary wire using a coupler, and bury the connected coupler in a shallow hole to keep it safe. More guide wires can be used to guide Billy to areas of the yard that are more difficult to reach.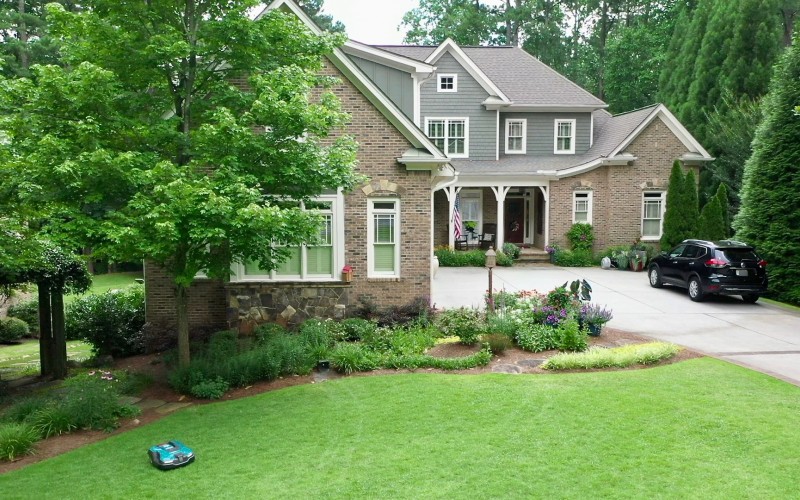 5. Sit back, relax and watch Billy mow!
Once the physical components are set up, you can connect Billy to the smartphone or tablet app and watch him go.
He's so quiet, you can have a backyard barbecue on your patio and you won't hear a thing. That's not to mention his collision sensor keeps kids and pets safe and he's sturdy and waterproof.
If you're ready to upgrade to an Automower, we can install one for you and you can take care of the rest, or we can manage it for you through our property care program. Talk to us today about how we can bring the future to your lawn.