Watching your new landscape grow and mature over time is one of the best parts of investing in one.
To make sure this growth happens properly, you need to choose a professional landscape designer.
We asked our design team what parts of their designs are most important for a landscape to flourish 5, 10, and even 15 years after construction! Check them out below.
1. Solving drainage & water issues.
If your yard becomes a boggy mess when the rain starts pouring, it can be difficult to have healthy lawns and gardens. This water retention can be caused by low spots or excess run-off that can't drain away quickly enough.
If there's one issue that every landscape design needs to prevent from the get-go, it's drainage and water issues. These issues cause erosion and hardscape damage, and will only get worse as time goes on.
Fortunately, all drainage issues are solvable ones! Our trained landscape architects will use a range of strategies to make sure that erosion and standing water never happen. When planning, we'll make sure the water always has somewhere to go. Some of the top methods are French draining beds, re-grading slopes on your property, terracing, layered plantings, or installing a dry creek bed. All of these methods will drain water away from gardens, low spots, and the base of your home.
At an Avondale Estates home, we solved some major drainage issues — see the case study or watch the video below!
2. Making the most of a small space.
Whether you have a small backyard or front yard, or even a little side yard, a small space doesn't mean your landscape has to feel cramped!
If your space is small, there are a lot of avenues we can take to realize its full potential. A few years ago, we worked in tandem with two customers in Glenwood Park whose small backyards bordered each other. The result was creative, fun, functional and most importantly, far from constricting!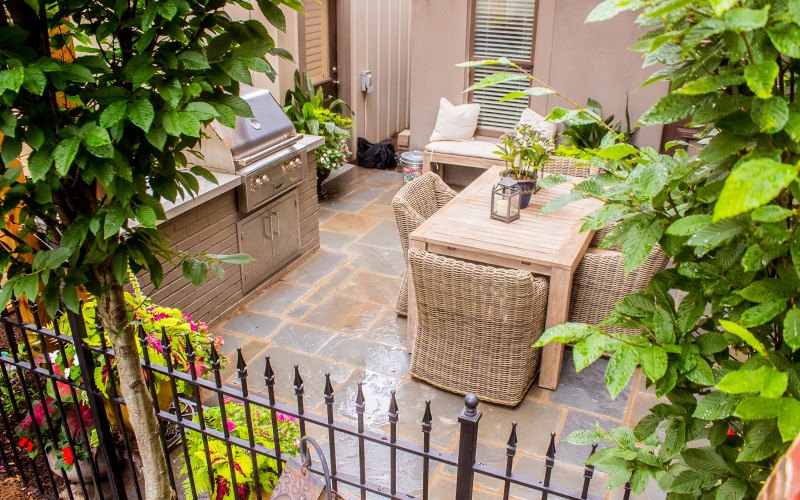 3. Planning to use smart technology.
With all this talk on how to refine your landscape as the years go on, we'd be remiss not to mention smart technology.
The three major smart technologies that we recommend for new builds are:
Smart irrigation systems — "Smart" irrigation are irrigation systems that use the latest technology to monitor weather and soil conditions in real-time, check on water evaporation and plant water use, and then automatically adjust your watering schedule based on the actual conditions of your landscape. Basically, the systems can "think" for themselves — saving you water and money at the same time! At Plants Creative, we offer smart irrigation packages through Hydrate Smart Irrigation, which is partnered with Weathermatic. For every gallon of water saved, Weathermatic provides clean drinking water by drilling water wells in developing countries around the world!
Smart landscape lighting — Placing lighting in strategic places throughout your landscape can highlight the aspects of your yard that you love. Today's LED lights can be connected to "smart" controllers. These controllers have a low-voltage transformer and are controlled through a wifi connection, app, or website.
Lawn maintenance with Automowers — Never mow the lawn again. Husqvarna Automowers®, which we call "Billy" here at Plants Creative, are robotic lawnmowers that can think for themselves — and keep your lawn looking amazing. While these aren't strictly part of the design or construction process, they can make enjoying your space afterwards that much easier!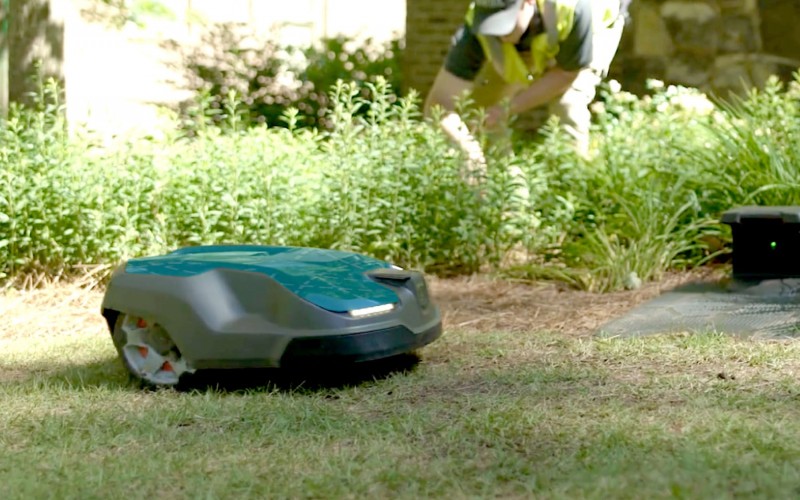 4. Taking advantage of what you already have.
Almost every yard had something worth keeping, whether it's mature trees, beautiful perennials, or even a well-made pathway.
Keeping mature trees is something our designers encourage — as long as they're in good spots and not diseased. It's important to know where the shade on your property will be as you plan, as this will determine what plants and grass work best for certain spots. It will also help inform where you put outdoor sitting areas like decks or patios.
Using aspects of your old design is 100% possible. You can also repurpose existing materials (like stones, bricks, or pavers) in new parts of your landscape, or transplant existing plants to a new location.
Check out this post, where we dive into an awesome example of an existing landscape we designed and built around in Grant Park!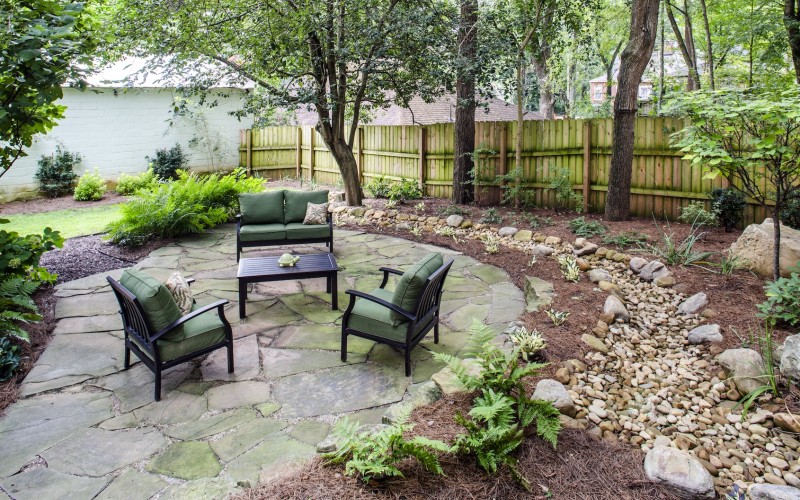 What We Look for When Planning Your New Space
If you ask us, planning your new landscape — before any design or construction happens — is the most important part, because it determines how your landscape will mature over the years.
That's why our designers start with a comprehensive questionnaire and have a design process centered on empathy and listening. By asking you the right questions, we can make sure we get the details right as we design.
Curious? Find out more about our design packages or schedule a meeting today!