Creating a budget is one of the most important parts of planning your new landscape. If you're wondering how much you want to spend on a landscaping project, we've compiled some helpful tips that will make budgeting the project easier for you.
1. Take inventory of what's already in place
Walk around your property. Start visualizing your new landscape. While this is happening, you can note what's already in place — whether a garden bed, walkway or a tree or two — and what you'd like to keep around. Sometimes, you can repurpose old materials in your new landscape, or build around what you'd like to keep!
2. Focus on how it's going to be used
This is the fun part. Now that you have an inventory of what you already have, it's time to sit down and list out everything you really want. And I mean everything! Don't limit yourself!
For example…
Do you love grilling or cooking outside? Maybe an outdoor kitchen is for you. Basic outdoor kitchens start at around $15,000 and can go up to $100,000!
Is the space going to be an outdoor family room or dining room? You may want a dining table, a fireplace or fire-pit, and outdoor furniture. In that case, you need to budget for the landscape and the furniture. Patios start at $30/square foot, while furniture sets, depending on the quality and size, can range from $1,500 up to $10,000.
Want your yard to become a private escape or oasis? Creating the feeling of a mini-retreat is easy with hammocks, water features and fountains, and structures like pergolas and pavilions. But that's only the man-made side of things — be sure to think about natural elements too, like where trees will be placed, what parts should be turf or what you'd like to have as ornamental garden beds. If you wanted to combine a hammock, a simple water feature, a custom-designed cedar pergola, and plantings and turf for an average-sized backyard, a good starting point for budgeting would be $18,000.
This is only a small list of some big opportunities to create an incredible landscape! If you're wondering how much you should invest, the American Society of Landscape Architects suggests starting with 5-10% of your home's worth. If you think that sounds high, consider this: researchers estimate that good landscaping can add between 5-20% to your home's value!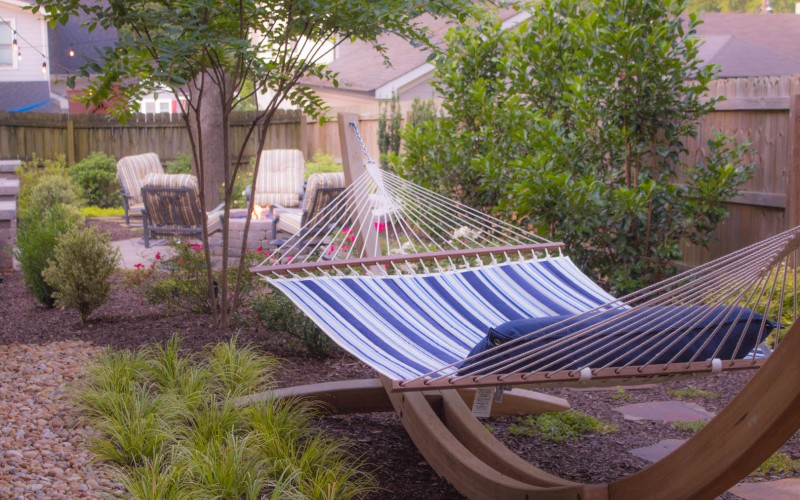 3. Be up front!
Now that you've had time to list everything you could ever want in your landscape, it's time to get realistic. The best way to find out what's realistic is to involve an experienced design professional in the process. All design-build companies, including Plants Creative, will provide an on-site consultation to listen to your goals, and to discuss budgets, prior to moving into the design phase.
No matter who you end up working with, don't be afraid to talk budget with them. In order to get an accurate estimate, you need to be up front and honest about what you're looking for and what you want to be prioritized in the landscape.
4. Ask "big picture" questions
Throughout the whole process of planning a new landscape, you and the company you choose to work with need to ask some "big picture" questions. In order to get the most out of the initial process, these questions need to go beyond how the landscape is going to be used.
Here are some of the questions we suggest our customers ask themselves and their family before starting a project:
How long are we going to be living in the house? Do we see yourself here for a while?

Is the landscape going to age well and will we require some help, either occasional or ongoing, in maintaining it?

Is the money being spent well? What is the return on our investment? Will this improve the quality of our lives?

Remember, If you're still not sure how much certain elements of a landscaping project are going to cost, you can always ask. At Plants Creative, we understand the challenges that come with numbers and budgets. We are transparent about the estimates we provide for our design projects. With proper planning, designing and building, a new landscape shouldn't be stressful, it should be exciting!