A landscape is far more than just a pretty-looking space. It's a living, breathing ecosystem. Everything that naturally interacts with this space is part of it. The sun, shade, wind, ground, rainwater and groundwater, the views, the driveways, ditches, bedrock and surface rock, the porches, decks, patios, and pergolas — it's all part of the ecosystem. This is why design plays such a big role — it takes into account all of the factors and variables of a landscape and creates something beautiful.
Here are two things I like to bring up when I talk to clients about landscape design, and why they matter.
Design creates the angle
Good design starts with a solid process! At Plants, this begins with a client consultation. Our team will spend some time walking around the property to be worked on with the client. During this time, we'll do a lot of listening — and ask a lot of questions. We use this time to get to know both the client and the natural space.
We'll ask questions like: Who is going to use it? How is it going to be used? How much privacy do you require? Will you be entertaining guests? Is it a place to relax — or to share with friends and family? Will you maintain it yourself or are you looking to have your space professionally maintained?
I like to say that design creates the angle. What's planned for is intentional and it involves design expertise. Many of our clients have great green thumbs but they might not necessarily grasp how form, texture, layout, and purpose can influence a landscape. When you go through the design process with us, at the end of it you'll be able to pull out a plan and see exactly what everything is going to look like when it's fully complete. So, even if it is completed in stages, there's a vision in place that can be worked towards.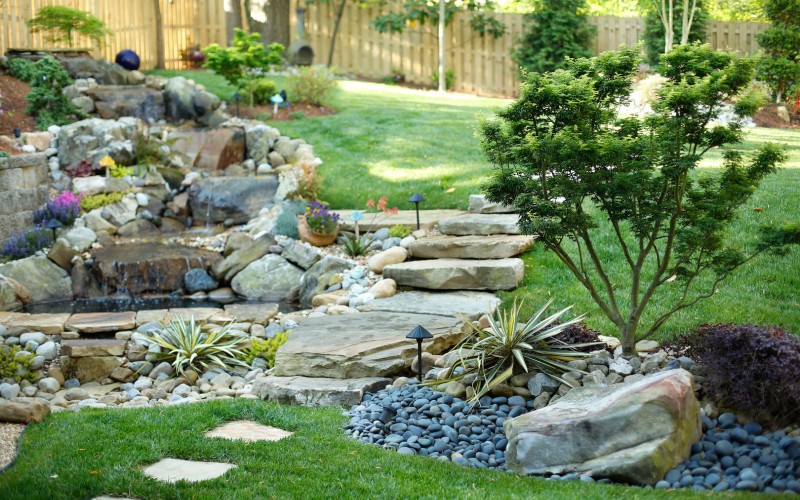 Native versus exotic plants
The plant life used in your landscape isn't a small detail — it's a big one! What you and your landscaper designer choose to plant can have a massive impact not only on how your landscape looks but also its environmental sustainability.
Exotic plants are defined as plants that were introduced to America after European contact, or plants that have been introduced from other areas of the continent or country. Many of these plants were introduced for their ornamental value rather than their environmental value. Native plants, on the other hand, are plants that grow in a particular region without any human help. Both native and exotic plants have aesthetic value, but native plants are overwhelmingly positive for the surrounding ecosystem.
When you plant native plants, they will likely flourish with a lot less maintenance than exotic ones. They're also great for native birds, animals and good insects, like bees and butterflies. And, in certain areas, exotic plants have become an invasive species, taking over ecosystems and having a net negative impact on the native plants and animals there.
When all is said and done, the designing and building of a landscape is about establishing harmony between an ecosystem and you. Harmony also applies to the relationship you develop with your landscape designer. Don't be afraid to tell them that you aren't sure what's going on. They're experts, after all, and they want to help. For me, a good job won't be done unless I really get to know my clients. There's nothing like working hard on designing and building a landscape, only to hear a client tell me that it looks even better than they dreamed it would!