It's hard to imagine a better place to live than the Blue Ridge Mountains. The minute you step outside, breathtaking views and fresh mountain air fill your soul with a sense of calm. For me, it's difficult to imagine a more beautiful place on earth.
The Blue Ridge Mountains have their own particular charm, and most homes in the area are what's considered "mountain modern." When designing your outdoor space it's important to keep your home's aesthetics in mind so your interior and exterior will complement each other.

In this post, I'll share a brief overview of the mountain modern design style, some of the challenges you might face when creating your design, and a few tips and recommendations to make it easier.

What is "mountain modern" design?
Mountain modern design combines contemporary materials like metal and glass with rustic elements found in nature, such as wood and stone. Fireplaces and firepits blend with the natural surroundings and offer the perfect place to gather with your loved ones.
Often these elements are displayed in angular patterns. Plantings are minimal and tucked in among the various design elements — large, expansive lawns and acres of formal gardens would be out of place in this wild and rugged terrain.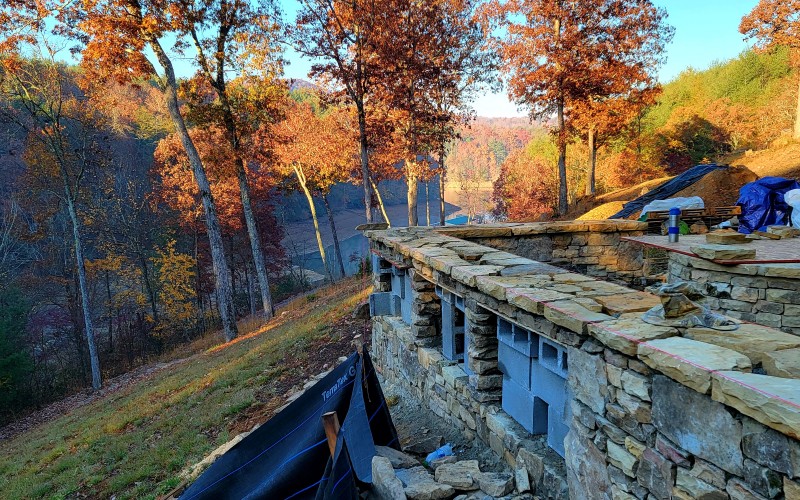 Challenge #1: The land
When designing a landscape in the Blue Ridge Mountains, the most obvious challenge is the terrain itself. You have to contend with rocks, boulders and steep slopes — we had to move 70 tons of boulders from one project we worked on!
To tame the slopes you need to incorporate a number of retaining walls and terraces — something that will take some good old-fashioned hard work along with the appropriate machinery and materials…which can be a challenge itself (and one we are happy to take on!).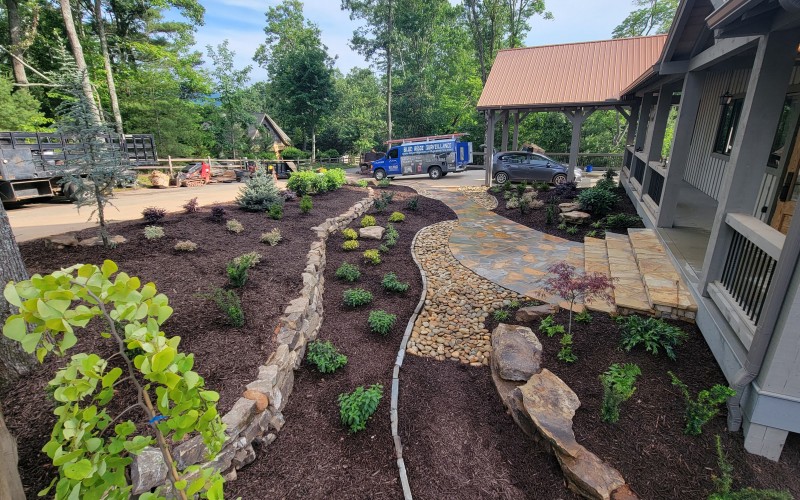 Challenge #2: The animals
While the terrain is a challenge when building your hardscapes, the animals — most notably the deer — will make a quick meal of your plants if you don't choose them carefully. While you can't predict the behavior of a hungry deer, here are a few deer-resistant plants that I recommend to my clients:
Upright yews — Yews provide dramatic color and form to your garden and are a great choice for foundation plantings. They are easy to care for and regular pruning will help them maintain their shape or size.
Abelia — This woody, ornamental shrub is known for its gorgeous foliage and its honeysuckle-like flowers that bloom for months. Birds, butterflies and other pollinators love it but deer generally prefer tastier fare.
Illicium — This aromatic shrub has glossy green leaves with beautiful spring flowers and is highly resistant to deer. The star-shaped "fruit" of this shrub is known as "star anise" and is used in many Asian recipes.
There are other options to choose from, and I'm sure your garden center will have its own recommendations.

Note: Bears are also fairly common in the Blue Ridge Mountains. To discourage them from coming around your home, resist the temptation to hang bird feeders close to your property. A hungry bear would find the seeds hard to resist!
Challenge #3: Insufficient landscape lighting
There are many choices when it comes to landscape lighting, and all of them make your home look magical — but they can also keep you safe.
In the city, we get used to the ambient light cast by the streetlamps, but in the Blue Ridge Mountains, that isn't necessarily the case. So the only option is to make sure your pathways are adequately lit. You don't want to risk a misstep that could result in a sprained ankle, skinned knee or worse.

Landscape lighting will also keep animals away from your property since most nocturnal animals avoid areas that are brightly lit.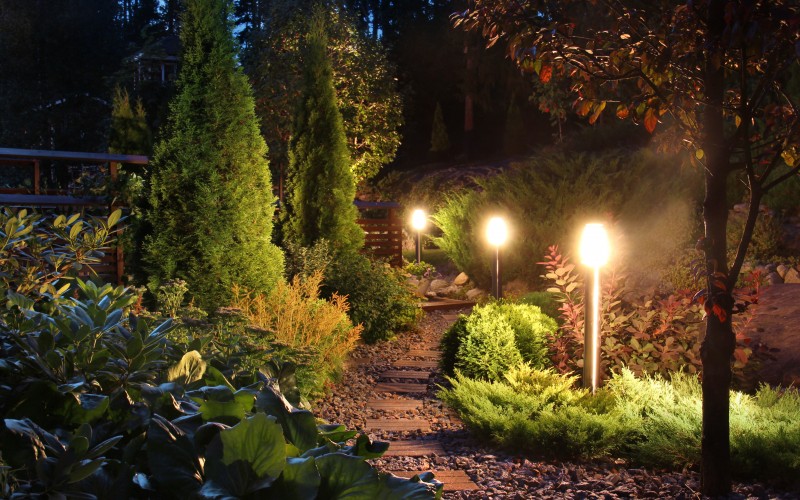 Challenge #4: Making full use of your property's potential
With so many new people discovering the natural beauty of the Blue Ridge Mountains and deciding to call it home, finding the right landscape professional to create and care for your property might prove challenging.
At Plants Creative Landscapes, we value people, creativity and nature, and love to create landscapes that help people make full use of their property's potential — allowing them to spend more time connecting with each other and with nature.

We felt there was a real need in the community for our services, which is one of the reasons we decided to open a new location here.

Our business focuses on creating a symbiotic relationship between people, the natural world around them and the team at Plants Creative — in fact, most of our customers seem more like family!
Challenge #5: Choosing which features to include in your landscape first!
This is your space. You get to decide how you want your property to look, and which features will enhance your lifestyle — what makes it challenging is the variety of options!
I love to cook and entertain, so for me, an outdoor kitchen is an absolute necessity — one that allows me to be outside with my guests instead of inside on my own.

It may be different for you.

Think about how you plan to use your space (and who is going to be using it) and the features will bring you joy. We call this making your "wishlist."

If you're not sure where to begin, download our free guide, "The Joy of Outdoor Living." It'll give you inspiration and help you find fulfilling and joyful ways to connect with each other — and with nature.
Are you ready to transform your landscape into a beautiful, functional outdoor living space?
Getting started is easy. Give us a call or fill out our online form — we'd love to know more about you and your vision for your landscape and how we can help get you outside!