Attending the ELEVATE conference hosted by the National Association of Landscape Professionals (NALP) was more than just a professional endeavor for us this year; it was a profound and inspiring experience. This event, dedicated to educating, entertaining, and inspiring industry professionals, exceeded all our expectations.
Our journey at ELEVATE 2023 was nothing short of amazing. It wasn't just about sessions and presentations but about forging connections, sharing stories, and gaining invaluable insights.
Education and Networking
ELEVATE 2023 focused on four key areas crucial to business growth: team building, customer service, business and finance and operations.
The conference offered diverse educational sessions that allowed us to dive deep into these areas. What truly stood out were the "Campfire" education sessions on the show floor, creating an immersive learning environment that sparked lively discussions.
Listening to industry experts share their wisdom and unique perspectives was a highlight. One memorable presentation came from Justin Mosely, our Maintenance Sales lead, who discussed the wonders of automowers, shedding light on their myriad benefits for customers.
Pam's presentation on the significance of soft skills for managers and the importance of comprehensive team training was informative and inspiring. As last year's Woman Leader of the Year Award recipient, Pam's participation in the Q&A Campfire session and the Industry Leader Panel on the main stage was a testament to her leadership and expertise.
Mental Health and Personal Stories
This year, ELEVATE felt different. It was more than just a conference; it was a platform for individuals to share their stories of struggle and resilience. These genuine accounts added a layer of authenticity to the event, fostering deeper connections and understanding among attendees.
I had the privilege of leading a panel session where we delved into the critical topic of mental health, recognizing its profound impact on workplace performance. It was heartening to see attendees open up about their own journeys, from veterans working through PTSD to parents coping with a child's recent mental health diagnosis. These powerful narratives reminded us of the importance of addressing mental health and supporting one another in and out of the workplace.
Exploring Innovations
For company owners and decision-makers, discovering innovative equipment, software, and products is essential for business success. The ELEVATE Expo provided the perfect environment to explore the latest advancements in our industry.
With 171 exhibitors, the expo was a treasure trove of ideas. Our focus was exploring new innovations in the electric equipment space, particularly in infrastructure and battery setups for our trucks. We were thrilled to witness the industry's progress firsthand!
And we had fun too!
ELEVATE was not all work and no play. It allowed us to reconnect with old friends and build new relationships with fellow attendees. From the warm welcome reception to lively cocktail parties and dinners, there were plenty of opportunities to relax and unwind. Tuesday's after-party at Gilley's, a honky-tonk restaurant complete with line dancing, karaoke and even armadillo races, was a blast!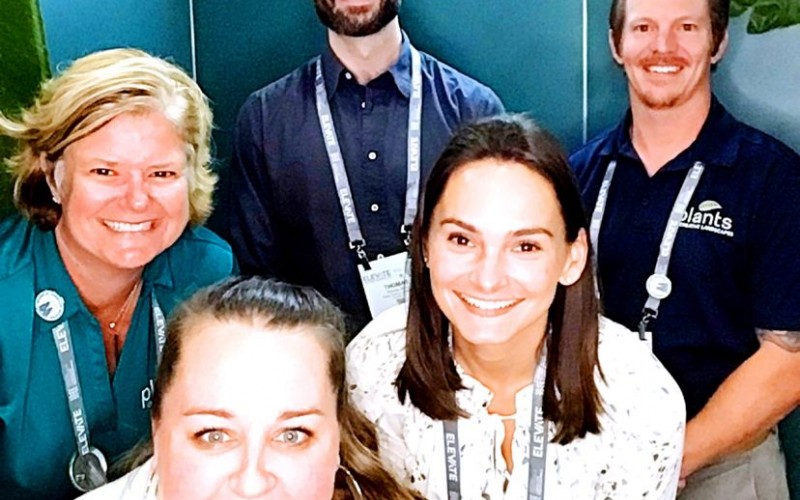 Justin also had the privilege of touring the operations of a local landscaping company, Southern Botanical. Peeking behind the scenes and learning how others run their businesses is always a treat and inspiration!
Reflections
ELEVATE 2023 left us invigorated and filled with a sense of purpose. We didn't just attend a conference; we became a bigger part of a sharing and supportive community. We're eager to implement the ideas and strategies we've learned with the aim of making Plants Creative Landscapes even better for our dedicated team members and valued clients.
ELEVATE 2023 reminded us of the incredible power of connection, innovation, and personal growth within the landscape industry. We are excited to see how these newfound learnings will positively impact our business while contributing to the betterment of the entire industry.
And lastly, I just want to take this opportunity to thank all of the committee members, NALP staff, volunteers, presenters, and panelists for making this event everything it was.