Some people enjoy standing in their yard with a hose and watering their lawn. Others don't mind setting up a sprinkler. Still others have a manual irrigation system.
But for most of us, all of this manual watering can prove tedious — and even if you have an existing irrigation system, maintaining it takes time, repair costs add up and precious water gets wasted.
Smart irrigation removes the work of watering and the stress of keeping up with your irrigation system, so you can sit back, relax and enjoy your yard!
Here are some of the most common questions we get asked about smart irrigation, answered!
1. What is smart irrigation and what does it do?
Smart irrigation systems are a combination of advanced technologies:
Sprinklers with nozzles that improve watering coverage.
Irrigation controllers that can be controlled through an online app.
Water conservation systems that monitor weather and moisture conditions on your property, predict future weather and adjust based on their readings.
The traditional style of irrigation controller was a basic, time-based program that ran on a schedule. But a smart controller adjusts how much water it's dispersing according to real-time updates.
Today's smart irrigation systems can be installed with many existing manual irrigation systems. It can be linked to your wifi and controlled via a timer on your smartphone or tablet. But there's also a controller or sensor that can monitor the weather or the moisture level in the ground, so it won't waste water if there's just been a good rainfall.
2. Is smart irrigation expensive?
While smart irrigation systems have initial start-up fees, they save you money (and time!) in the long run. Since they immediately start saving you water, the upgrade pays for itself over time. It's good for your wallet and for the environment!
Hydrate Smart Irrigation, our in-house smart irrigation department, can include water optimization technology from Weathermatic and 24/7 leak detention to ensure not a single drop of water is wasted — saving you up to 38% more water. What's Weathermatic? More on that below.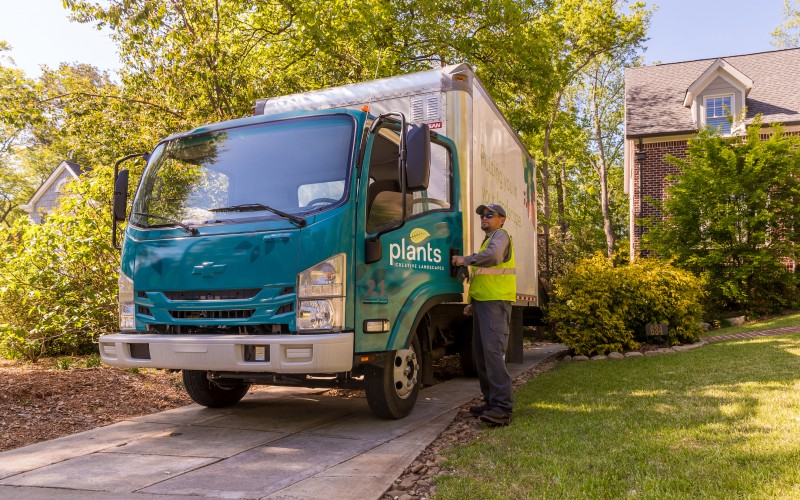 3. What's Hydrate Smart Irrigation?
Plants Creative's in-house smart irrigation plans are called Hydrate. The two Hydrate plans — Smart Saver and Weathermatic — both monitor the weather and ensure each area of your lawn gets the right amount of hydration.
Both plans include maintenance along with system audits in the spring and mid-summer, spray nozzle and filter replacements, general repairs, and winter shutdown.
While the Smart Saver plan uses your existing smart controller, the Weathermatic plan adds valuable features like 24/7 monitoring and the Weathermatic SmartLink Controller, which can maximize your water savings.
4. What's Weathermatic?
Weathermatic is the green industry leader in smart technology and a company dedicated to a bigger purpose through its community clean water initiatives.
To support the launch of Hydrate, Plants Creative has partnered with Weathermatic.
We see this partnership as a win-win: water savings that positively impacts communities and financial savings provided to you, our customers. Here's how:
The SmartLink Controller takes into account the weather, slope of your landscape, soil type, plants, and type of sprinkler heads so the amount of water dispersed is always precise.
EPA WaterSense Certified, meaning controllers are required to save a minimum of 20% of water usage compared with others.
24/7/365 remote access and leak detection warnings. This additional feature notifies our team if there is a higher or lower flow of water than there should be and allows us to shut off your system from afar until we're able to come and repair it. The SmartLink Controller also has an automatic shut-off feature if it detects rain, leaks or that the lines are in danger of freezing.
Depending on the number of zones, these smart controllers can save you up to 35% on monthly water bills, with the average homeowner saving approximately 10% throughout the spring and summer months.
A lifetime warranty on controllers, no questions asked.
Finally, for every gallon of water saved, Weathermatic provides clean drinking water by drilling water wells in developing countries around the world.
We believe this is a beautiful merging of sustainability with technology, and it aligns perfectly with our vision for Hydrate: irrigation that's better for your yard, your wallet and the environment.
If you're curious what sort of fees are involved, you can check out the pricing for our two main plans. You can also get a quote or give us a call and we can talk you through the process and pricing.